Spring 2019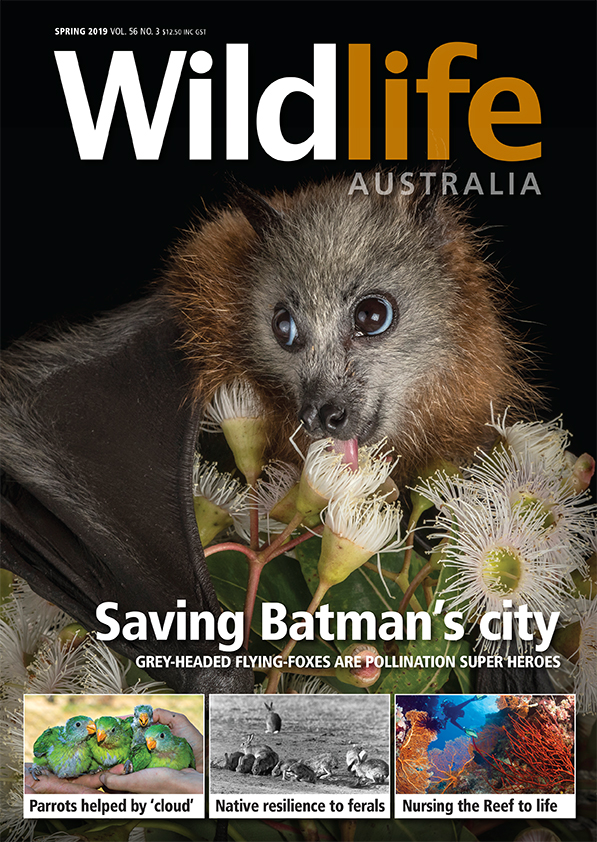 Spring 2019:
Saving Batman's city - Grey-headed flying-foxes are pollination superheroes
THEY ARE known as the Gardeners of the Night … by day better known as grey-headed flying foxes. Wildlife Photographer Doug Gimesy's spectacular and emotive images of Melbourne's grey-headed flying-foxes help bring home the message that these bats are keystone pollinators for the entire region – at least as effective and bees and birds, but covering greater distances every night.

Citizen scientists are doing a great job, helping to sort data on the endangered superb parrot that migrates in NSW. Writer Wendy John discovers how these volunteers are using an Australian program on 'the cloud' – from home and, sometimes, in their pyjamas – to process data that is helping to save the rare superb parrot.

Discovering the marvels of Australian wildlife would hardly have been possible without the 'colonials' calling for help from Indigenous Australians. In part one of this digest of their fascinating book, Australia's First Naturalists, authors Penny Olsen and Lynette Russell reveal how – right from botanist Joseph Banks's negotiations with Aboriginal people to capture wildlife – it was the experience and knowledge of Indigenous Australians that counted most in natural history discovery.

How different are Australian, African and Indian bustards? Surprisingly so, finds wildlife writer and enthusiast Antoni Milewski.

An examination of wildlife resilience around the globe, by researcher and lecturer Brian Walker, offers insights and ramifications for global conservation, as presented in his book, Finding Resilience: Change and Uncertainty in Nature and Society.

The Reef Restoration Foundation is finding early – and encouraging – success with its coral 'nursery' program off Fitzroy Island on the Great Barrier Reef.

How does the Australian fire beetle actually sense fire? Research from Helmut Schmitz's University of Bonn team in Germany may surprise you. It certainly surprised them.
Purchase this issue