Winter 2019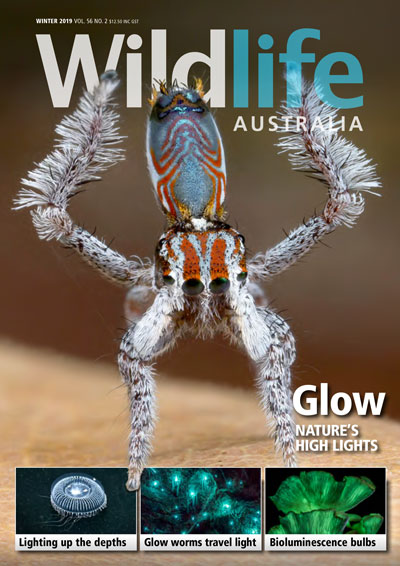 Winter 2019:
GLOW - Nature's high lights
Australia's peacock spiders have captured imaginations worldwide with their colourful mating dance antics, writes Jenny Thynne, thanks to the magnificent photography and videography of Jürgen Otto. Exploring the global fascination with peacock spiders further, in this edition, is Dr Damian Elias, of the University of California Berkeley's Elias Lab. He explains the science behind the colours – and colourful behaviours – of these playful, and fascinating creatures.

What really happens to wildlife when, after 3.5 billion years of evolution, artificial light invades habitats that should be in relative darkness? University of Melbourne senior lecturer and group leader of its Urban Light Lab, Dr Therésa Jones explains what is really happening to wildlife forced to bask in the tungsten and LED lights of human civilisation.

There is an under-recognised threat of lead contamination from the shooting of wildlife in Australia. Veterinarian Dr Jordan Hampton, from Murdoch University, outlines how the worldwide phenomenon of harmful lead exposure in scavenging animals is directly relevant to Australian wildlife.

Like so much else being rediscovered about First Australians' culture, storylines and knowledge of the seasons – and behaviours of wildlife across the continent – the night sky is rich with vital information. As part of his remarkable research with the Australian Indigenous Astronomy Research Group, cultural astronomer Trevor Leaman maps out a treasure trove of celestial clusters and legends that describe land and sea creatures, and their seasonal behaviours.

Nature's bioluminescence has Catrin F. Williams more enthralled than ever – even though her day job, as a research fellow at Cardiff University in the UK, is to study the science behind natural luminescence – a subject that confounded both Charles Darwin and Aristotle.
Purchase this issue