Summer 2018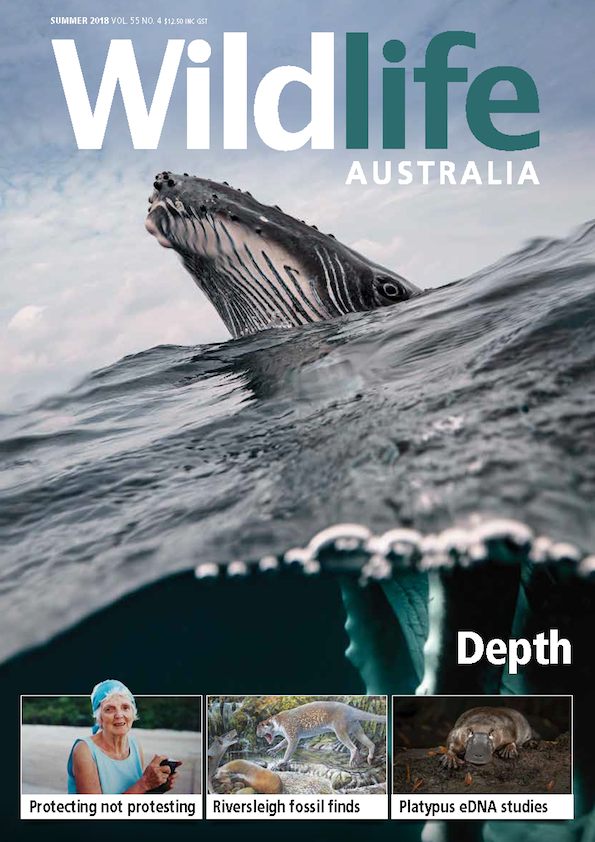 Summer 2018:
Depth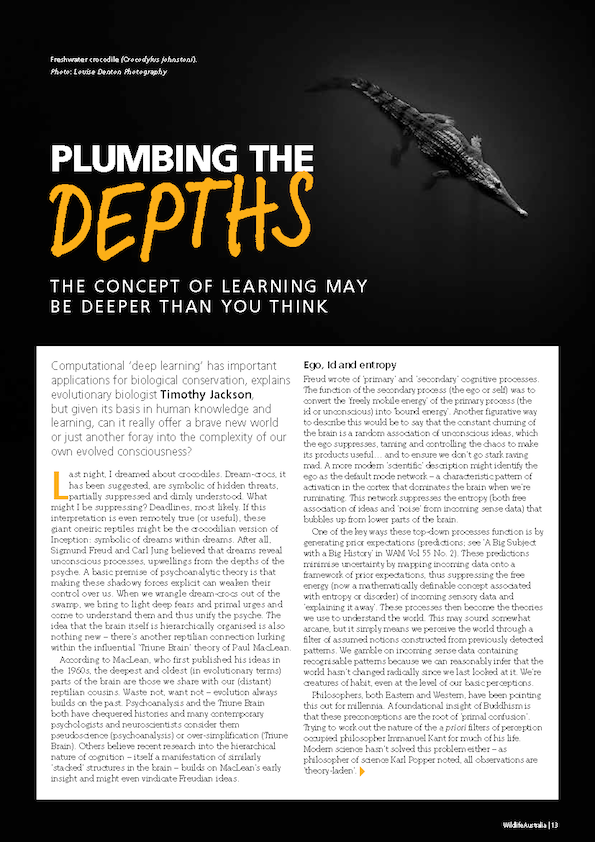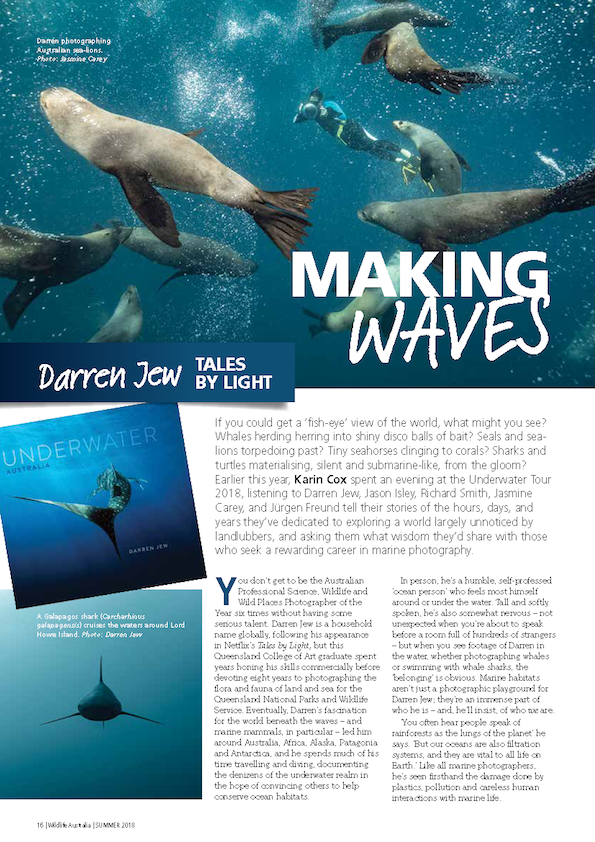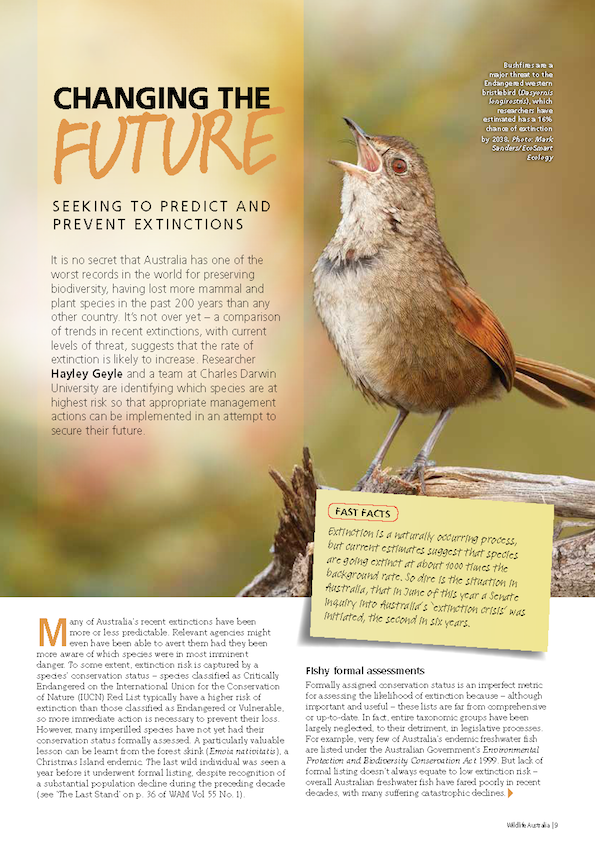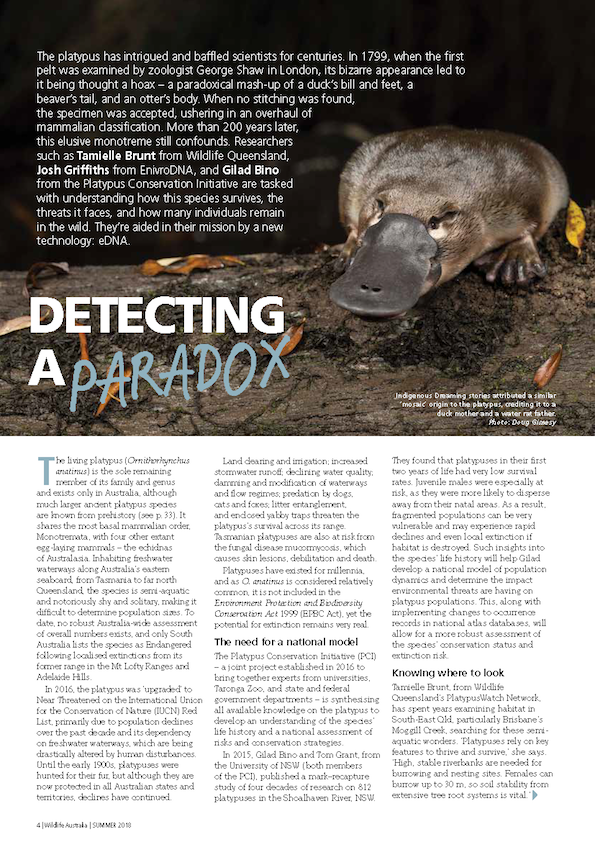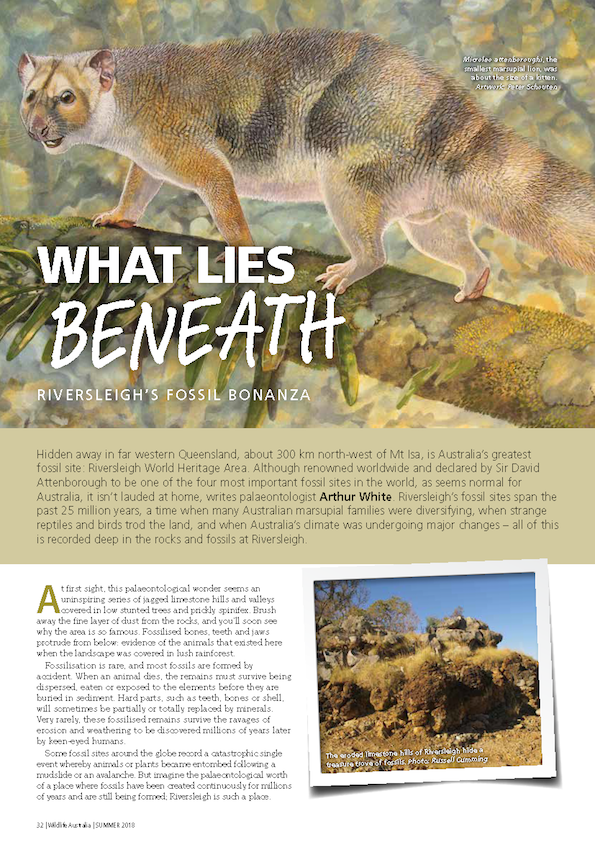 Computational 'deep learning' has important applications for biological conservation, explains evolutionary biologist Timothy Jackson, but given its basis in human knowledge and learning, can it really offer a brave new world or just another foray into the complexity of our own evolved consciousness?

The platypus has intrigued and baffled scientists for centuries. Researchers Tamielle Brunt from Wildlife Queensland, Josh Griffiths from EnivroDNA, and Gilad Bino from the Platypus Conservation Initiative are tasked with understanding how this species survives, the threats it faces, and how many individuals remain in the wild. They're aided in their mission by award-winning photographer Doug Gimesy, and by a new technology: eDNA.

If you could get a 'fish-eye' view of the world, what might you see? Karin Cox spent an evening at the Underwater Tour 2018, listening to award-winning wildlife photographers Darren Jew, Jason Isley, Richard Smith, Jasmine Carey, and Jürgen Freund tell their stories of the hours, days, and years they've dedicated to exploring the depths that go unnoticed by landlubbers.

Australia has one of the worst records in the world for preserving biodiversity, having lost more mammal and plant species in the past 200 years than any other country. Trends in recent extinctions suggest the rate of extinction is likely to increase. Hayley Geyle and a team at Charles Darwin University are identifying which species are at highest risk so that appropriate management actions can be implemented.

Dr Kaya Klop-Toker and her colleague Dr Alex Callen, part of a team that has studied in-depth the deadly chytrid fungus which has decimated global frog populations for decades, may have cracked the code to understanding how to defeat chytrid.

Hidden away in far western Queensland, about 300 km north-west of Mt Isa, is Australia's greatest fossil site: Riversleigh World Heritage Area. Riversleigh's fossil sites span the past 25 million years, a time when many Australian marsupial families were diversifying, when strange reptiles and birds trod the land, and when Australia's climate was undergoing major changes – all of this is recorded deep in the rocks and fossils at Riversleigh, writes Arthur White.
Purchase this issue